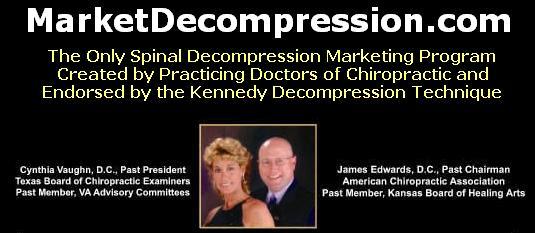 "When we decided to purchase a decompression table, I polled a number of my colleagues to determine what table they had purchased and why. In addition they had purchased the Market Decompression package to help implement and market the table. We have found the program, including the Decompression Alert Emails, to be invaluable in determining the proper do's and don'ts in an ethical and professional manner. Market Decompression has made it easy and simple for busy practitioners to concentrate on proper patient care and avoid the pitfalls that can surround a new modality without proper background research. I would not hesitate to recommend Market Decompression to anyone who is interested in introducing decompression therapy into their practice and the patients they serve."
Daryl D. Wills, DC, FICC
Past President, American Chiropractic Association
Gering, Nebraska

"I am a big fan of the MarketDecompression.com products. I purchased their material and brochures before I actually bought my table. You will spend a lot less with their information and get much more. They understand decompression from a political, marketing and billing stand point better then anyone I have come across. Their emphasis on marketing from a website and drawing the public to that website has helped my whole practice. They offer an excellent website and that one feature was certainly worth the price of admission alone. I also appreciate the Alert Emails. The integrity they put forth in their products is good for both decompression and chiropractic. The MarketDecompression.com marketing materials are absolutely worth the money!"
Rick Goldfine, D.C.
Malvern, PA

"Great CD! I learned more ethical marketing information in one hour between patients reading your information than in 8 months and $45,000.00 with another marketing company. I can't wait to get started. Thanks!"
Mel Gabriel D.C.
Stamford, CT

"Having just purchased a decompresion unit, I knew that I needed to obtain a comprehensive marketing system that would be both effective and compliant. There is immense value in the Market Decompression system. We had our decompression website up immediately and we were able to design a marketing plan relatively quickly with the marketing resources. Drs. Edwards and Vaughn has been extremely responsive to our questions and will serve as a reliable resource for our practice going forward."
In appreciation,
Larry S. Arbeitman, D.C.
Morganville, NJ

"After purchasing my spinal decompression table, I knew I would need some help with marketing, compliance etc. On the advice of other doctors, I decided to check out MarketDecompression.com. To my amazement, they covered everything I needed to know to implement marketing for this treatment! I called and emailed Dr. Edwards on several occasions and each time he personally got back to me - that same day. He even helped me with issues that that had nothing to do with their marketing program. All I can say is, 'Go for it!' You will not be sorry."

Robert E. Lee, D.C.
Tuckerton, NJ

"As a long time decompression doctor, the advice of MarketDecompression.com has worked great and we now have both tables at full capacity and our collections have increased as well. Your recommendations and advice were extremely helpful in transitioning our office to a more profitable model. Also, the agreement forms for cash, Medicare and insurance patients are great. Thank you for all you do!"
Gil Kentof, D.C.
Franklin, TN

"I just wanted to let you that I really appreciate your help with our marketing efforts for spinal decompression. We love our new website and the personal one-on-one support that has helped us understand how to effectively and ethically market decompression and patients on treatment programs. Both of you have really gone the extra mile for our office and it is greatly appreciated. I want to highly recommend your products and services to any doctor who wants to inexpensively and ethically market their decompression services. Your program gave us everything we needed to implement a successful marketing effort in our community. Add to that the excellent ongoing support, and I have to say that you folks are a gift from God. Thanks for all your help."
Mark Elliott, D.C.
Vista, CA

"I'm writing to thank you for all of your help. After 16 years of practicing and chasing every new technique, marketing tool/group and shiney piece of equipment, it is so refreshing to find people who act with honesty, ethics, intelligence, evidence based results...and most of all integrity. You have given me hope to look at the the future of my practice WITHOUT FEAR! Thanks a ton!"
Greg Huron, DC
Bethlehem, PA

"We wholeheartedly endorse MarketDecompression.com marketing. It is a high quality, reasonably priced, totally compliant marketing program. I have, in the past, had dealings with other decompression marketing programs only to have numerous complaints come back to me by customers. I have NEVER had anyone complain about the MarketDecompression.com material or tell me that the marketing didn't pay for itself over and over. Drs. Edwards and Vaughn are practicing chiropractors with a high level of commitment to the profession. Both have served on State Licensing Boards, Dr. Edwards is a past Chairman of the Board of the American Chiropractic Association and Dr. Vaughn served on the Veterans Administration Advisory Committees. Their credentials are beyond question. They actually use what they sell. They don't sell what doesn't work just to make money. What more can I say? They are terrific people and their product works."
Geoffrey Miscoe, President
Bryanne Enterprises, Inc.


"I am VERY PLEASED with all the products and EXCEPTIONAL support from MarketDecompression.com. I find the email updates very informative and have already reordered the brochures. I recently purchased the trade show banner and found it VERY well done. My MD letters are all done and going out this week!!! All of their marketing ideas are superb. These doctors are VERY PROFESSIONAL and VERY ETHICAL and I would HIGHLY recommend their services and products. YOU WILL NOT BE DISAPPOINTED!!!!"
Alan R. Powers, D.C.
Nashville, Tennessee

"I have been a client of Drs. Edwards and Vaughn for the last 3 years and I can't say enough good things about their marketing products and service. Their Alert Emails are always full of great information, and on many occasions I have contacted them for help on different issues. I expected to receive a reply maybe the next day, but in most cases they responded within 10 minutes! I wish everybody I did business with delivered such great service and attention to their clients!"
Rob Elder, D.C.
Creve Coeur, MO

"Market Decompression is the most effective spinal decompression marketing package that I have found. Their newspaper insert is a killer and I now own a billboard truck. I can personally verify that the Market Decompression program works! If you are ready to increase your new patient flow, then invest in this very affordable package and follow their protocol. You will be glad that you did!"
Robin Rodriquez, D.C.
Pearland, Texas

"I opened my office right out of school and bought a decompression system. Being the young, arrogant doctor that I was, I thought the Market Decompression CD was too expensive and I could do it myself just as well. I couldn't have been more wrong! I did help several people during my first year of practice, but I also lost a lot of money in the process. The Market Decompression CD payed for itself within the first month and I look forward to a prosperous second year in practice. Thanks Jim and Cindy!!!"

Brady Wirick, D.C.
Idaho Falls, Idaho

"We have enjoyed our MarketDecompression.com experience immensely. Thanks so much for your great work! I just got around to reading your email for your new referral website DecompressionUSA.com. It sounds wonderful and a sure fire home run! I will call later and sign up. I feel your materials and periodic communications are directly responsible for taking the confusion out of this technique for me. Thanks so much for your continued commitment to bringing the best quality marketing to your patients and to your partners! Thanks a million!"
Thomas Johnson, D.C.
Shreveport, LA

"I have found your marketing program to be very helplful in the spinal decompression world and it delivers as promised! I have used all parts with good results. Thanks for staying on the 'cutting edge' with the Alert Emails. The referral letters are by far the most comprehensive available to our profession. I have found the MD referral letter series and the brochures to be worth the price of admission. Thanks again!"
Brian G. Foltz, DC
Westerville, OH

"I am very pleased with everything about the Market Decompression package. Their customer support is very prompt in answering all your questions in a timely manner. The program has everything you can possibly need to enhance your decompression practice and to give you the sense of security of knowing what you are doing is completely ethical. It has been a well worth investment for my practice and I recommend it to anyone that is looking to add decompression to their practice."
J. Brooksie Ash, DC, RD
Georgetown, Texas

"I have been providing spinal decompression services for over 2 years. I have been very impressed with the Market Decompression approach to detail and the outstanding content of their marketing package. The Market Decompression program will help one enhance their public footprint and at the same time help avoid making costly and maybe illegal choices. The scrutiny that follows spinal decompression requires a deft touch to protect one's license---and Market Decompression program is a tremendous help."
Bob Thatcher, D.C.
Woodbury, MN

"I looked all over the place for good marketing at an affordable price for my decompression system. As I'm sure you're aware, it's almost impossible to find. As luck would have it, I found 'Market Decompression.' The brochures are excellent and very affordable. I've also found the Market Decompression Resources CD to be a wonderful way to jumpstart a marketing campaign for Spinal Decompression. Lots of information, plenty of ideas and of course, it's very affordable. Also, it is ethically sound, no problems with how it's presented to the public. Thanks for all of your help, you're the best!"
Brett Moss, D.C.
Ocala, Florida

"Thank you, doctors for your MarketDecompression.com efforts. When I first looked into providing disc decompression to patients, I wanted it to be done properly in every way. I needed some guidance, as I am conscious of contributing to our profession. Your material and website I purchased are professional and concise. The regular bulletins are great. Thanks again for being a sensible, honest force in decompression and Chiropractic!"
Mark S. Banasiak, D.C., Certified A.R.T. Clinician
Temecula, California

"Our office found the Market Decompression coding advice and marketing materials to be extremely helpful. The doctors' extensive and thorough knowledge of decompression is very impressive. The Alert Emails are also very valuable in the ever changing world of spinal decompression. The material is ethical and effective, and I highly recommend the marketing program to any doctor who wants to attract more spinal decompression patients."
Mark Balderston, D.C., FICC
Shawnee, Kansas

"During my search for a decompression table that was capable of doing both lumbar and cervical decompression, and at the same time was cost effective, the only reasonable choice was to go with the [redacted]. Next was to look for marketing and resource material that would assist us in helping as many people as possible. This search came down to two programs, and after talking with several D.C.'s who were using your program, it ended all questions and the program was purchased through MarketDecompression.com. Thank you for all of the hard work you've done so I can avoid the mistakes of going it alone!"
Andrew White, D.C.
Layton, Utah

"This is a very simple, easy-to-use, turn-key marketing program that has all the bugs worked out for you. At a fraction of the cost of other decompression marketing and management systems, it was a no-brainer decision for me."
Kevin D. Kanz, D.C., FICC
Austin, Texas

"I have utilized the MarketDecompression.com products and resources to effectively grow a successful decompression/traction practice. I especially like their first class brochures which are very effective at educating patients. Their marketing program is ethical and effective in regard to new patient generation. I would encourage anyone with an interest in growing their decompression/traction practice to utilize the Market Decompression.com products and services."
J. E. Davis, D.C.
Moline, IL